Crain's: Majority of Illinoisans back gay marriage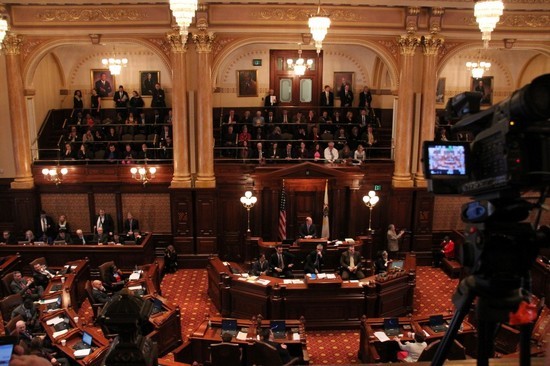 senate vote on gay marriage bill, feb. 14
Chicago, IL - The results of a new poll published Tuesday by
Crain's Chicago Business
indicates a majority of Illinoisans support the gay marriage bill that passed the Senate last week.
The online survey of 600 adults found that 50 percent support the legislation that now awaits action in the House. Only 29 percent opposed the bill, with 20 percent unsure.
The strongest support came in Chicago with 56 percent in support. In the suburbs, 52 percent indicated support while only 48 percent of downstate residents support passage of the bill.
The
Crain's/Ipsos Illinois Poll
was conducted from Feb. 12 to 15.
Nine states and the District of Columbia recognize same-sex marriage. If Illinois approves gay marriage nearly twenty percent of the U.S. population will live in states recognizing marriage equality, according to the Human Rights Campaign.
Read more on Crain's Chicago Business
Related:
Read more from the Feb. 14 Senate debate and vote