Yoko Ono to release 30-track remix retrospective ONOMIX on September 18
Tue. August 28, 2012 1:13 PM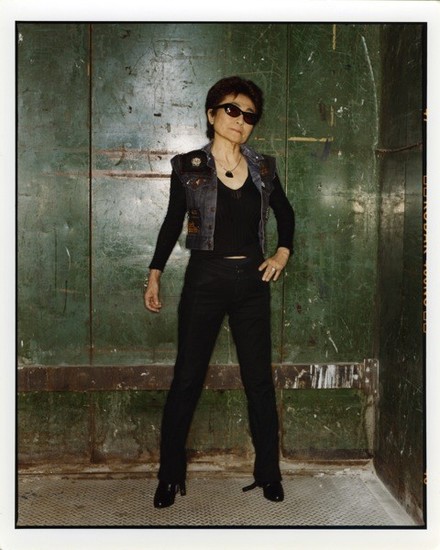 photo credit // michael lavine
Hollywood, CA - YOKO ONO has long been credited with igniting the punk-rock fire years before its official explosion, and her work continues to be relevant and generation-inspiring decades later. For the past 10 years, ONO has been meticulously reinventing select songs from her vast catalog for 21st-century dancefloors, giving the groundbreaking pop culture icon a greater platform and visibility of which many contemporaries and present-day contenders can be envious.
Since first bursting onto the art and music worlds with her compelling, forward-thinking works, ONO has been a chameleon, ingeniously transforming herself from revolutionary "outsider" artist and punk rock progenitor to global peace ambassador, treasured pop culture icon, and dance/electronic music's reigning matriarch.
ONOMIX assembles 30 stand-out mixes (including the brand-new club single "I'M MOVING ON") from YOKO's staggering body of remixed works that, to date, has yielded nine #1 BILLBOARD CLUB PLAY chart hits ("TALKING TO THE UNIVERSE", "MOVE ON FAST", "WOULDNIT' (I'M A STAR)", "GIVE ME SOMETHING", "I'M NOT GETTING ENOUGH", "GIVE PEACE A CHANCE", "NO NO NO", "EVERYMAN / EVERYWOMAN" and the timeless "WALKING ON THIN ICE") and two critically-acclaimed remix anthologies: YES, I'M A WITCH and its companion OPEN YOUR BOX.
This digital-only "green" release offers a comprehensive overview of ONO's ambitious and ongoing dance remix series campaign, through which the boundless art-rock visionary has opened up her catalog of original material for reinvention by an eager generation of cutting-edge innovators, including PET SHOP BOYS, BASEMENT JAXX, DANNY TENAGLIA, FELIX DA HOUSECAT, JUAN MACLEAN,
Ralphi Rosario
, DAVE AUDE, MURK, JUNIOR BOYS, CSS, STONEBRIDGE, BIMBO JONES, PEACHES, LINUS LOVES, DIGITAL DOG, PENGUIN PRISON, RICHARD MOREL, FRANCOIS K., ERIC KUPPER, DJ MEME, KARSH KALE and many more.
ONOMIX will be available digitally at iTunes music store and Beatport.com September 18th on MIND TRAIN / TWISTED Records.