850,000 come out for Chicago Pride Parade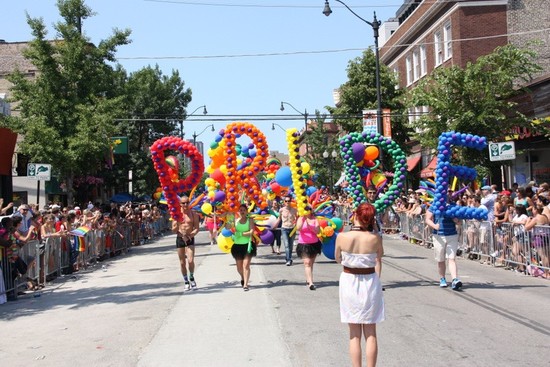 pride, a balloon contingent from balloons by tommy
Illinois Gov. optimistic on marriage equality at Pride Parade
Chicago, IL - It was another record-breaking year for the annual Chicago Pride Parade as over 850,000 spectators celebrated gay pride from the streets, rooftops and balconies in the Uptown and Lakeview neighborhoods on Sunday.
The 43rd annual parade, lead by Mayor Rahm Emanuel and Grand Marshal Evan Wolfson took on added energy as gay Chicagoans and allies came out to celebrate marriage equality.
Following President Barack Obama's public support for gay marriage, Illinois Gov. Pat Quinn (D) announced his support in May. Quinn reiterated that support when
speaking to ChicagoPride.com
just minutes before marching in the parade.
"We're moving forward," he said. "The key is to get a majority in both houses of the Legislature to get a bill on my desk I can sign. I think we're closer every day."
In January 2011 Quinn signed the law that allowed gay and lesbian couples to enter into civil unions. That took effect in June 2011.
Wolfson told ChicagoPride.com he is optimistic that Illinois will eventually have same-sex marriage, whether it comes through legislative or judicial means.
Despite the record number of spectators, there were no immediate reports of major problems. Last year police were overwhelmed by the crowds, which caused the parade to become disrupted resulting in a new parade route in 2012. Richard Pfeiffer, parade coordinator, said that city officials tallied the crowd at 850,000.
The parade, which started on time at noon from the corner of Montrose and Broadway, then traveled south through Lakeview and Chicago's Boystown neighborhood. There were over 200 entries, which included the usual contingent of LGBT-supportive politicians, dozens of floats and major corporations, performances groups, sports organizations and non-profit groups.
A number of LGBT-affirming faith groups were represented toward the beginning of the parade, a request Pfeiffer said came after Chicago's Catholic Cardinal Francis George compared the parade to a Ku Klux Klan gathering last year.
Favorite entries this year included the Chicago Spirit Brigade, Windy City Cowboys, Righteously Outrageous Twirling Corps, and Dykes on Bikes, who revved up the crowd with their loud motorcycles.
Several protesters stationed near the end of the parade shouted anti-gay insults but were generally drowned out by the enthusiast crowd, parade participants and music. 
The parade commemorates the New York City Stonewall riots in 1969, a happening that many say sparked the modern gay rights movement.
Other major cities such as New York City, San Francisco and Toronto also held their gay pride parades on Sunday.
Related:
View thousands of photos from the Chicago Pride Parade