Campus Pride hosts LGBT college fair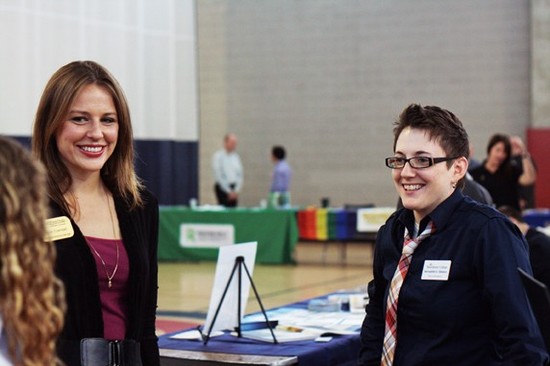 lgbt college fair at center on halsted
photo credit // alex sennello
Chicago, IL - Picking out a college isn't an easy choice for anyone. There are so many things to consider: majors, nightlife, workloads, and increasingly shocking price tags. For queer students it can be an even more involved process due to having to factor in things like access to health care, LGBT resources, and nondiscrimination policies. This information, vital for LGBT students, is often hard to find and intimidating to ask for. Many institutions and admissions councilors are simply oblivious to the entire subject.
The LGBT college fair put on by Campus Pride and hosted by
Center on Halsted
on Saturday, Sept. 24 brought together 30 schools from around the country that are not only getting it right, but actively seeking to recruit queer students. It seems that educational institutions are beginning to see that having a sexual and gender varied student body is a matter of diversity, just like ethnicity and socioeconomic class. As I was told by a representative of Warren Wilson College, "It's all a matter of prospective; gender, class, race, and sexuality, there all important prospective." A University of Chicago representative went as far as saying that not fostering these forms of diversity would lead to a subpar learning environment. In addition to adding prospective and culture to a campus, colleges view recruiting queer students as a way to create a safer, more open, experience for everyone in the academic community.
Many parents in attendance clearly came with as many questions as there children, grilling representatives on health care coverage and housing right besides the students. Having these conversations allowed everyone in attendance to breathe a little easier and gain confidence in knowing that there are places that not only embrace queer students, but actively seek them out. On a personal level; it was very easy to see that the representatives, many of whom identified as LGBT, took the event very seriously, understanding that educating our community will enable LGBT young people to "make changes" as expressed by the director of LGBT affairs at Northwestern.
The event was well attended by not only Chicagoans but individuals from through the Midwest. The Center on Halsted's special event planner, Jacob Kosior, considered the event a success and said he hopes it can become an annual occasion.
Editors Note: This article written by Alex Sennello, a transgender high school student, who is in the process of choosing a college.
Related:
Crowd turns out for LGBT college fair; 35 schools send reps