Arkansas grocery chain reverses decision on censored magazine cover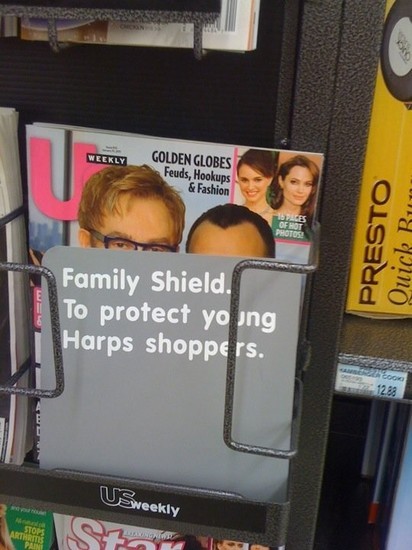 us weekly cover in question
photo credit // twitter: jennhudd
Mountain Home, Arkansas - The Arkansas grocery store chain that censored the Us Weekly cover, featuring Elton John and partner David Furnish with their new baby, has reversed its decision and is now responding.
Harps Food Stores President Kim Eskew released this statement: "When we began receiving complaints at our corporate office, we reviewed the magazine in question, removed the shield and are selling the magazine in all our locations today without any cover," Eskew said Wednesday. "Our true intention is not to offend anyone in our stores and this incident happened at just one of our 65 locations, which, when brought to our attention, we reversed."
The story began with a photo tweeted by Jennifer Huddleston on Tuesday that showed a placard, generally used to cover pornography magazines, placed over the Us Weekly cover at Harps supermarket in Mountain Home, Arkansas.
"This was taken at my local grocery store. I was shocked and horrified. Can you help bring attention to this," she tweeted. "They are saying they need to keep children from seeing it, because it is a gay family."
Wednesday morning, GoPride.com posted the story and image, which was later picked-up by
RadarOnline.com
.
By Wednesday afternoon The
Gay and Lesbian Alliance Against Defamation
(GLAAD) told RadarOnline.com they were aware of the situation and had contacted Harps corporate office in Springdale, Arkansas. GLAAD was told the shields were put over the magazine cover at this store after "several" customers complained.
Ironically, an Arkansas judge in April struck down that states voter passed ban against unmarried couples adopting or foster-parenting children.
Harps is a regional grocery chain with over 60 locations in Arkansas, Oklahoma and Missouri.