Kick-off Pride Month with Out of the Office networking event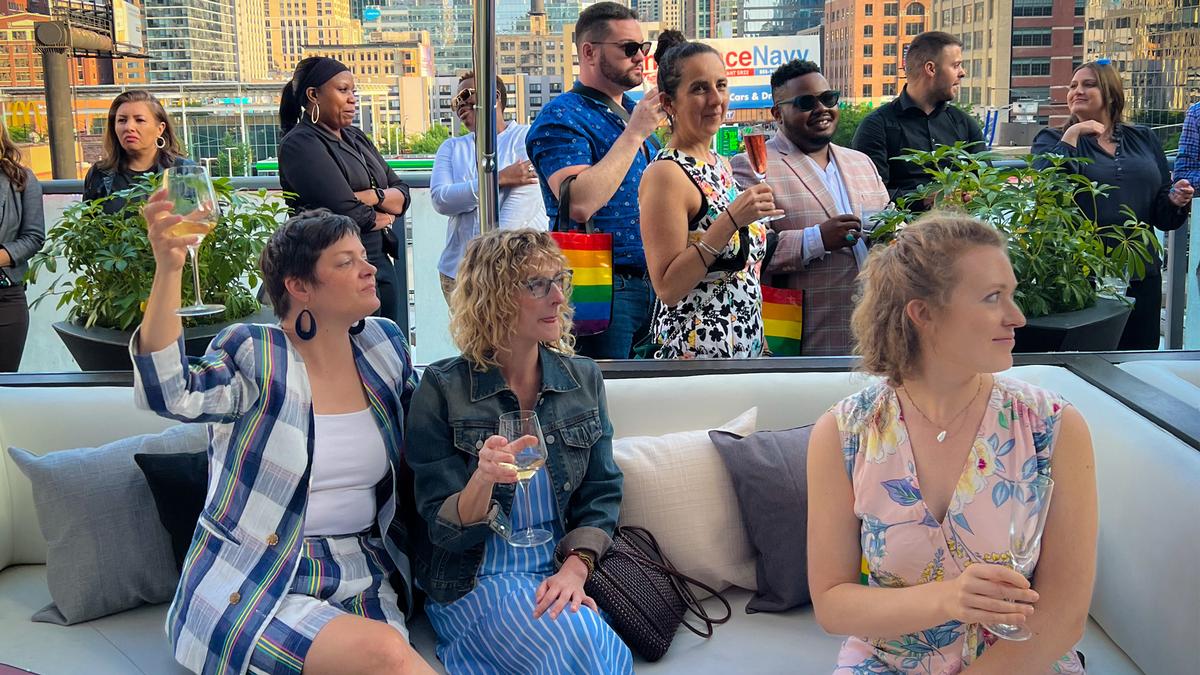 photo credit // gopride.com
'It's something people look forward to attending,' says Out of the Office founder Andrew Hayes
Out of the Office, Chicago's largest LGBTQ networking event, kicks off Pride Month on Wednesday, May 31 at The Godrey Rooftop I/O, 127 W. Huron – continuing its long-standing tradition as the start of the Pride Month celebration and parties.
Now in its 21st year, Out of the Office was founded by well-known community advocate and publicist Andrew Hayes.
When the first event was held in 2001 there were no LGBTQ events happening outside of Lakeview and the immediate neighborhood. Out of the Office was the way to connect LGBTQ business owners, entrepreneurs and allies.
"I'm incredibly proud that Out of the Office has the reputation as the official kickoff event for Pride Month in Chicago," Hayes said. "It's something people look forward to attending."
Starting at a now-closed River North nightclub, Out of the Office was held at various venues before settling on I|O at the Godfrey about 10 years ago.
This year, Out of the Office is being held in honor of Hayes and Godfrey Hotel Director of Sales Sandi Robinson, whose commitment has made the event a continued success.
After being sidelined for two years due to the pandemic, 350 people attended the event in 2022. 
"Seeing that and with the event turning 21 years old, I thought my God, it can now legally drink, so it's time for me to cut the cord," said Hayes, who this year passed the management of the Out of the Office to Legacy Project Chicago.
"I've been a fan of the Legacy Project since it first came into existence," Hayes said. "The passion and commitment of Victor Salvo, Lori Cannon, and the organization's volunteer board around the mission of protecting and preserving our history for future generations resonate deeply for me."
WGN's Sean Lewis will emcee Out of the Office 2023 as nearly 400 attendees help raise money for the Legacy Project's LGBTQ Curriculum Program for Illinois' Public Schools.
Tickets range from $25 - $50 and are
available online
. 
Out of the Office, Wednesday, May 31 from 4:30 p.m. - 7 p.m. at The Godrey Rooftop I/O, 127 W. Huron.
Said Hayes:
"It's been a true blessing for me to have led or been involved in so many incredible events in the city and our community. From black tie galas to Hearts Foundation's Fireball weekend at Finkl Steel, to the Celebrity Charity Chair Event, to Out of the Office. My passion for event production, marketing and public relations stems from my desire to pay back to the city that has given me so much. As a gay man, I am grateful that I live in a city that respects and values me as a person, my authentic self. Unlike a growing number of cities and states in the country, here we are protected. That's why Chicago will always be home. Here I can live my life, raise my family, and contribute to my beloved city, hopefully paving the way for future generations of Chicagoans to come."