Discover. Celebrate. Belong. FAN EXPO Chicago Celebrates 50 Years Of All Things Fandom
Fri. July 1, 2022 5:40 AM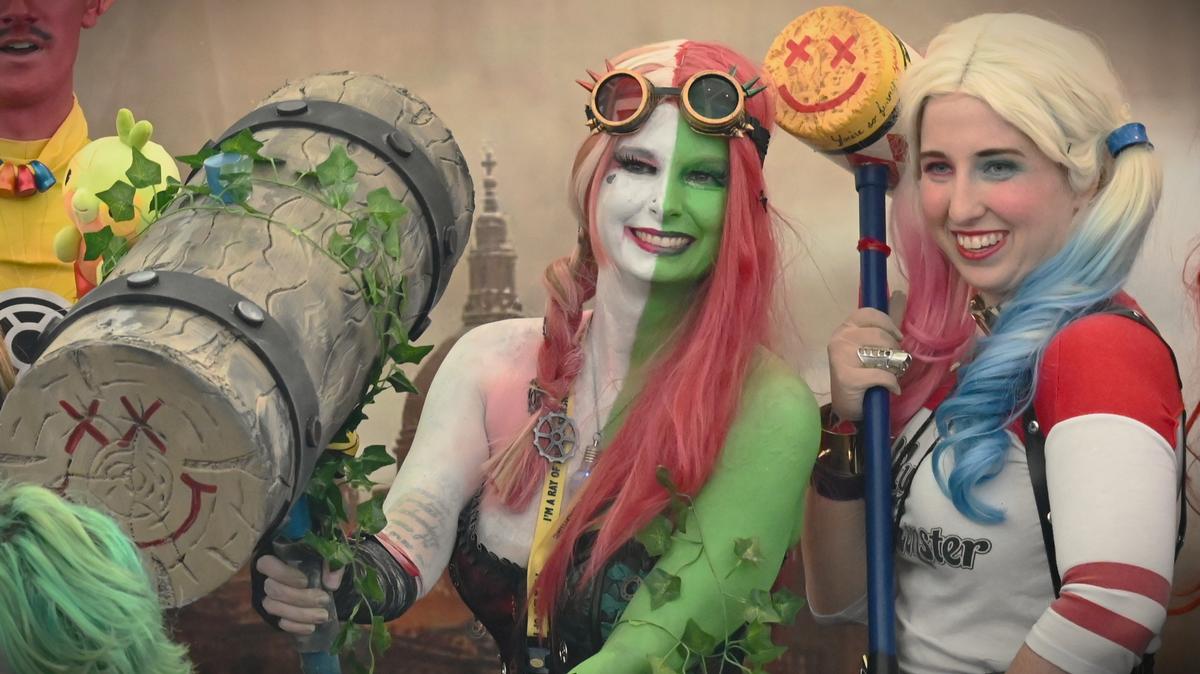 fan expo orlando (megacon), march 2022
photo credit // matt inawat, gopride
Chicago - In 1972, Chicago collectibles dealer and local school teacher Nancy Warner made history when she united 2,000 of Chicago's biggest comic fans to gather and celebrate comics in the midwest's first ever comic and collectibles convention. Fandom was changed forever when Nostalgia '72 took over the Donald E. Stephens Convention Center in Rosemont Illinois.
Formerly Wizard World, the FAN EXPO Chicago convention will return for its biggest show this month - bringing an incredible round-up of legendary celebrities, comic creators, voice actors and cosplayers to the Windy City - while paying homage to the traditional comic culture that started it all.
To celebrate the golden anniversary, superstar celebrities will reunite, including "the Hobbits" of the iconic
Lord of the Rings
trilogy (Elijah Wood, Sean Astin, Dominic Monaghan, Billy Boyd), Stargirl's Brec Bassinger, The
Book Of Boba Fett's
Ming-Na Wen and stars from
The Mandalorian
, Jay and Silent Bob, Clerks,
Cobra Kai
,
Star Trek
, as well as a stacked roster of voice actors includes Futurama's Billy West, Star Wars: The Clone Wars' Ashley Eckstein and the hottest leads from My Hero Academia and Demon Slayer. With additional guests and attractions representing dozens of the greatest franchises across genres and decades, the
massive lineup of celebrity guests
 will create the ultimate playground for fans of comics, sci-fi, horror, anime, gaming and more.
FAN EXPO Chicago has also assembled an incredible
roster of superstar comic artists and writers
, headlined by legends Brian Michael Bendis (writer, creator of "Naomi"), Geoff Johns (writer, creator of "Stargirl"), Joe Quesada (CCO, Marvel Entertainment) Greg Capullo ("Batman"), Marc Silvestri (celebrating 30 years of Image Comics), Kevin Smith ("Daredevil"), Leinil Francis Yu ("X-Men"), Jorge Molina ("Batman") and dozens of others.
The event will take place from July 7 until July 10 at the Donald E. Stephens Convention Center in Rosemont. The show opens from 4 p.m. until 9 p.m. on Thursday, 10 a.m. until 7 p.m. on Friday and Saturday and 10 a.m. until 5 p.m. on Sunday.
Tickets start at $22 and can be purchased at
www.fanexpohq.com/fanexpochicago/buy-tickets/
. For more information and to stay up-to-date on new guests and attractions, visit
www.fanexpohq.com/fanexpochicago
.
FAN EXPO HQ, the largest comic con producer in the world, recently published a
list of the top queer fandom moments
in 2022 for June's Pride month. Collectively FAN EXPO HQ hosts nearly one million fans annually at FAN EXPO Canada™, MEGACON Orlando, FAN EXPO Dallas™, FAN EXPO Boston™, FAN EXPO Denver, FAN EXPO San Francisco, Calgary Comics & Entertainment Expo, FAN EXPO Vancouver™, Toronto Comicon, Dallas FAN FESTIVAL and Edmonton Comics & Entertainment Expo. In 2022, FAN EXPO HQ presents six new shows previously organized by Wizard World: FAN EXPO Chicago, FAN EXPO Philadelphia, FAN EXPO St. Louis, FAN EXPO Portland, FAN EXPO New Orleans, and FAN EXPO Cleveland.