Paranormal fans psyched to see Ryan Buell and Annabelle at Warrens ParaCon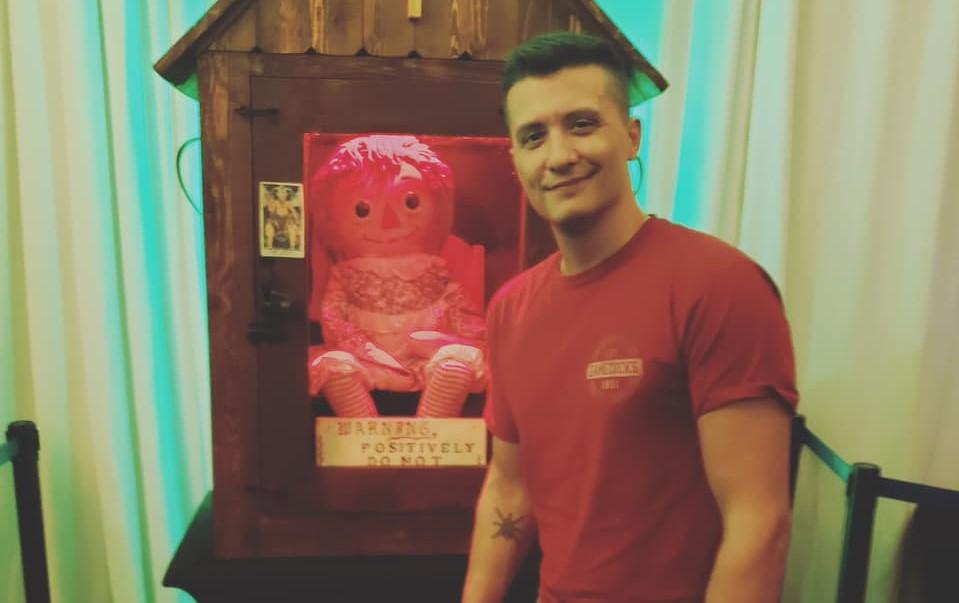 ryan buell and annabelle at warrens paracon 2021
photo credit // facebook ryan buell
The famous bisexual ghost hunter has seen a resurgence in popularity since his controversial disappearance from the public
Paranormal fans got a little treat from one of the first stars of television paranormal investigations, Ryan Buell, days before Halloween.

The 39-year old founder of the Paranormal Research Society at Pennsylvania State University has been slowly returning to public engagements after years of absence frought with personal challenges.

Buell posted a photo of himself at the Warren ParaCon, a convention of followers of famous demonologists Ed and Lorraine Warren, with the (arguably) most-famous "evil doll" named Annabelle.

"Don't mind me, just saying hi to an old friend," the famous bisexual journalist and anthropologist posted on Facebook.

"May I introduce the real Annabelle from The Conjuring movies," he continued.

The now-deceased Warrens were the only non-priest demonologists called on directly by bishops of the Catholic Church to investigate alleged spiritual posessions.

Buell was a longtime friend of Lorraine Warren, who appeared in Paranormal State. 

One of the Warrens' thousands of cases included a Raggedy Ann doll named Annabelle.

The case file was turned into a series of Warner Bros. box office blockbusters.

The doll has since been encased in a specially built wood and glass vessel and hidden away in a small, private museum.

Believers insist the doll has caused further despair and even death to visitors.

Buell disappeared from the public eye after allegations of financial fraud. He was arrested in 2016 but a jury trial never occured.

He was then arrested in 2017 for alleged assault and harassment of his then-boyfriend.

That same year, Buell was admitted into rehab for drug addiction.

Seeing his personal stock recover, Buell continues to share about his difficulties with understanding his place in the world when his sexual orientation is pitted against the institutional homophobia of Catholicism.

The Warrens and Buell continue to be hounded by non-believers who argue they are smart and elaborate hoax artists.