JB is in for a second run; Republican governor bets are anti-LGBTQ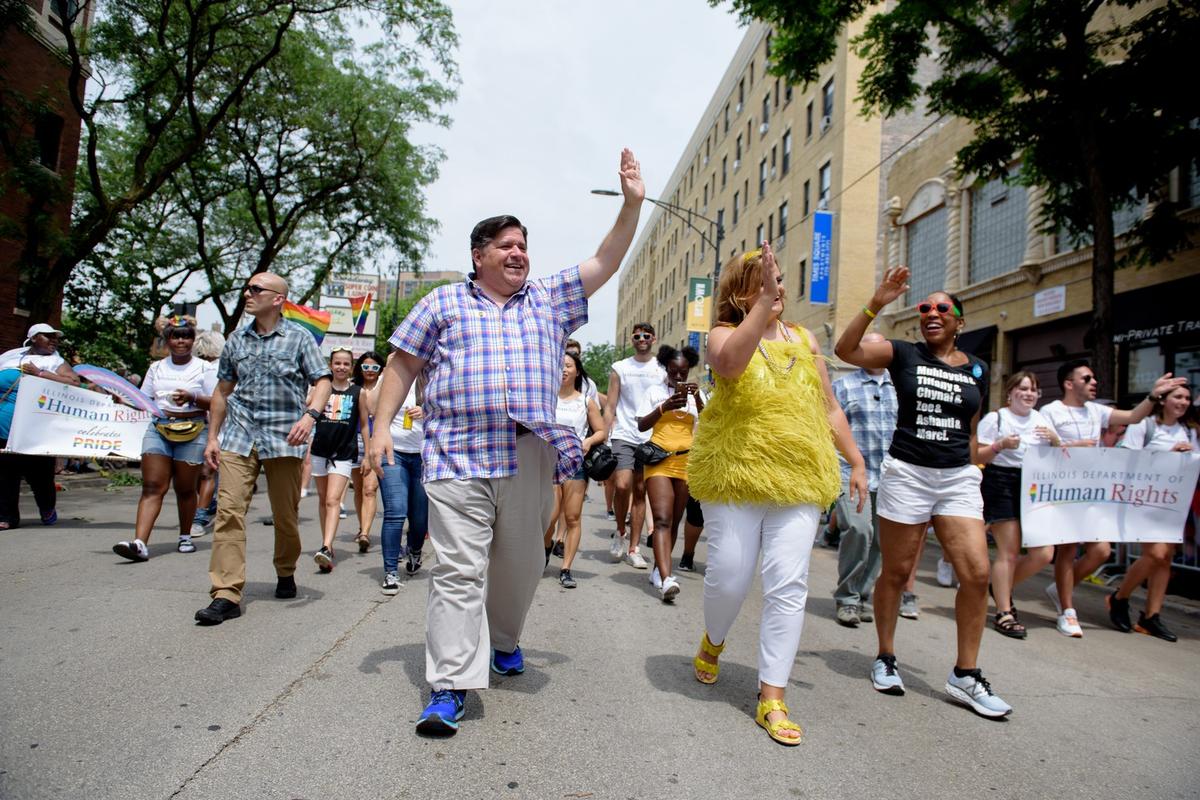 gov. jb pritzker marches in the 2019 chicago pride parade
photo credit // steven koch
Rabine, Bailey are rabidly anti-LGBTQ; Schimpf silent while Barickman voted for marriage equality
Chicago, IL - JB Pritzker, the 43rd Governor of Illinois, announced this week that he will run for a second term. The billionaire philanthropist has spent his last year maneuvering the state through pandemic and its subsequent pandemic economy.

Advocates of LGBTQ civil rights in Illinois are confident that he's a safe bet for their needs. There is concern that potential Republican challengers will campaign strongly on traditional anti-LGBTQ talking points considered necessary to win over downstate conservative voters, the demographic that most likely vote in primaries.

The anti-LGBTQ candidates

Among those running is Gary Rabine.

Rabine, whose nickname is "Ditchdigger" for his earth-moving company, is already making the case that he is a blue-collar man who worked his way to becoming a millionaire. He argues that as a homegrown businessman, he is best poised to defend other businesses from the ravages of high taxation and pandemic policies he views are holding back the economy.

Rabine is cut from a conservative Catholic cloth whose ideas fall in line with the current Springfield, Ill. bishop, Thomas J. Paprocki, who famously held a Mass of exorcism for the sin of marriage equality being passed in Illinois.

"Gary is Catholic and pro-life," Rabine's campaign said, punctuating the role of his religion in his potential administration.

Also running is Xenia, Ill. state Sen. Darren Bailey (55th).

He is campaigning as "a farmer, family man, and fellow citizen from rural Illinois ... [where] conservative roots run deep."

He is supported by Dan Proft, who helped lead Alan Keyes' 2004 ultra-conservative, ultra anti-LGBTQ campaign for Illinois U.S. Senate.

Bailey identifies "as a man of faith" and is "proudly pro-life and will always stand up to ptotect the rights of the unborn."

Full Armor Christian Academy is a pre-school through 12th grade institution Bailey founded. It is described as a choice for parents who want a "Christ-centered education" for their children.

The Academy teaches values that marriage is between a man and woman only, that homosexuality and transgender identity are sins and should not be promoted as promoting them are against God's will for humanity.

As a House member, Bailey challenged Priztker's mask mandates and economic shutdowns in court. He received a restraining order against the pandemic precautions, but it only applied to him.

In May of last year, Bailey refused to wear a mask in the House chamber and was ejected by a majority vote of his peers.

The not-so-anti-LGBTQ candidates

Former Waterloo, Ill. state Sen. Paul Schimpf (58th) is running for governor as a Republican. He ran against Lisa Madigan in the general election race for attorney general in 2014 and lost.

Schimpf, a U.S. Marine Corps veteran, served as principal legal advisor to the Iraqi prosecutors that tried Saddam Hussein, leading to his execution.

Schimpf is silent on LGBTQ issues and his record is thin.

His campaign color is purple, drawing symbolism of bipartisanship. And his main campaign points are against Illinois government corruption and lower taxation.

Bloomington, Ill. state Sen. Jason Barickman (53rd) is known for bucking the national party line in his legislative votes. He is considering a run for governor as a Republican.

Most important to LGBTQ advocates is his place as the only Republican senator to vote for marriage equality in 2013.

Barickman said he will make his decision by the end of this summer, expecting to weigh the pros and cons considering his young family's needs.

Juliana Stratton, a former state representative from Chicago, will also seek her second term as lieutenant governor on the same ticket.