Photos: Northalsted Market Days through the years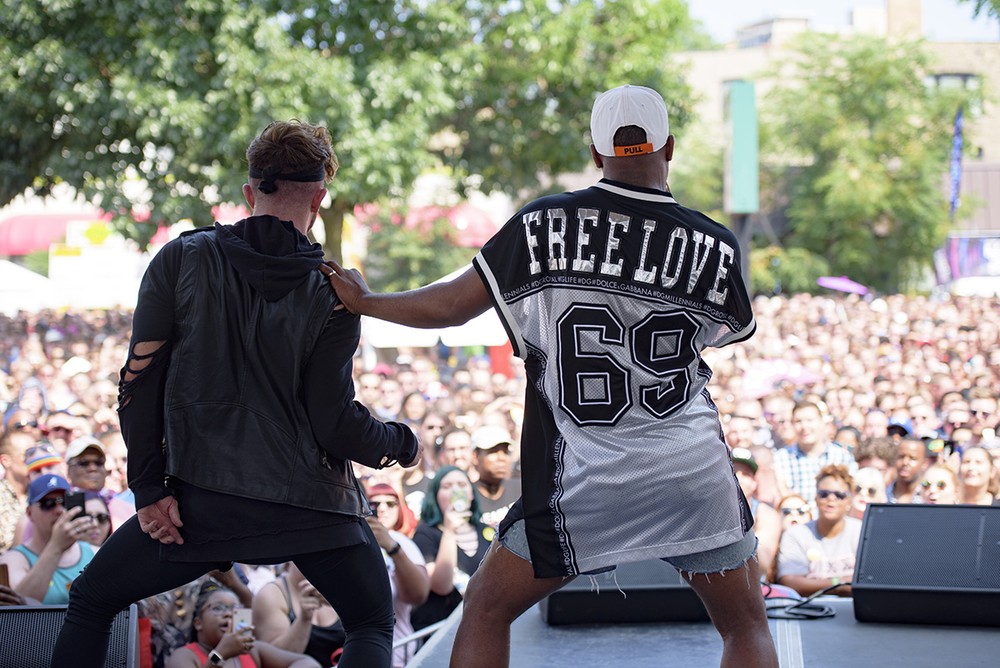 northalsted market days, 2018
photo credit // steven koch
The 39th annual Northalsted Market Days, the Midwest's largest street festival, was originally scheduled for this weekend, Aug. 8 and 9, but was canceled in June due to concerns over the coronavirus (COVID-19) pandemic.
The two-day fest has featured entertainment from Aaron Carter, Betty Who, Big Freedia, David Hernandez, Daya, Deborah Cox, Icona Pop, Jake Shears, Macy Gray, Neon Trees, Steve Grand, Todrick Hall, Ty Herndon and more.
The event organized by the
Northalsted Business Alliance
draws nearly 100,000 people to the Boystown neighborhood each year.
The pandemic has prompted the cancellation or postponement of major summer events, including Pride in the Park, Chicago Pride Fest, the famed Chicago Pride Parade, Lollapolloza and a number of other activities throughout the city.
Northalsted Market Days Photos
from GoPride.com and
Northalsted.com
2019:
Saturday, Aug. 10
(
Steven Koch
) |
Sunday, Aug. 11
(
Steven Koch
) |
Saturday, Aug. 10
(Rick Majewski)
Sunday, Aug. 11
(Rick Majewski)
2018:
Saturday, Aug. 11
(
Steven Koch
)
Saturday, Aug. 11
(Rick Majewski) |
Sunday, Aug. 12
(
Steven Koch
) |
Sunday, Aug. 12
(Rick Majewski)
2017:
Saturday, Aug. 12
(
Ken Brown
)
Saturday, Aug. 12
(
Anthony Meade
) |
Sunday, Aug. 13
(
Ken Brown
) |
Sunday, Aug. 13
(
Anthony Meade
)
2016:
Saturday, Aug. 13
(
Ken Brown
) |
Saturday, Aug. 13
(
Anthony Meade
) |
Sunday, Aug. 14
(
Ken Brown
) |
Sunday, Aug. 14
(
Anthony Meade
)
2015:
Saturday, Aug. 8
(
Ken Brown
) |
Saturday, Aug. 8
(Dave Ouano)
Sunday, Aug. 9
(
Ken Brown
) |
Sunday, Aug. 9
(Dave Ouano)