Howard Brown plans LGBT health center in Rogers Park
Wed. September 30, 2015 10:42 AM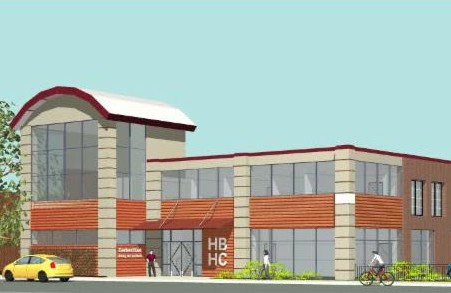 artistic rendering of howard brown at 6500 n. clark
New co-located site with Gerber/Hart Library and Archives will provide healthcare, education, and cultural activities
Chicago, IL - Howard Brown Health Center has announced plans to open a medical clinic in the
Gerber/Hart Library
and Archives location in Rogers Park by the end of 2015. The new clinic is one of the new opportunities resulting from Howard Brown's recent designation as a Federally Qualified Health Center.
"We're thrilled to have an opportunity to better meet the needs of LGBTQ people in Rogers Park, a vibrant neighborhood on Chicago's far north side and one of the most diverse communities in the city," said David Ernesto Munar, President and CEO of Howard Brown Health Center. "The new site, located in an emerging hub for LGBTQ culture in Chicago, furthers Howard Brown's mission to eliminate the disparities in healthcare experienced by lesbian, gay, bisexual, transgender and queer/questioning people."
Howard Brown's new facility will be co-located with Gerber/Hart at 6500 N. Clark Street on Chicago's far north side. The new clinic will occupy a nearly 15,000 square foot space and will offer primary healthcare services including a sliding scale, behavioral health services, wrap around support services, educational opportunities, and a meeting/event space.
Gerber/Hart moved into its current location in 2013 and is the Midwest's largest LGBTQ circulating library with over 14,000 volumes, 800 periodical titles, and 100 archival collections.
"This partnership is another great milestone for the city's lesbian, gay, bisexual, transgender and queer/questioning community," said Carrie Barnett, Board President of Gerber/Hart Library and Archives. "For decades, Gerber/Hart has been an important repository that documents Chicago's rich LGBTQ history. Sharing a space with Howard Brown will provide new opportunities for the community to learn about and connect with our movement's beginnings, local leaders, art and contributions to this great city."
Munar added, "
Sharing a space with Gerber/Hart also gives us an exciting opportunity to provide a robust wellness experience that impacts a visitor's body, mind and spirit."
Starting in early 2016, Howard Brown's new location will offer primary medical care, behavioral health services, STI/HIV screening and treatment, and social services. The new Rogers Park clinic will become Howard Brown's fifth service location. Howard Brown operates its main clinic at Sheridan and Irving Park, a satellite clinic on Halsted and Melrose, the

Broadway Youth Center

at Broadway and Wellington, and a research and administrative office at Broadway and Sheridan.