Roscoe's Tavern details renovation plans at Boystown bar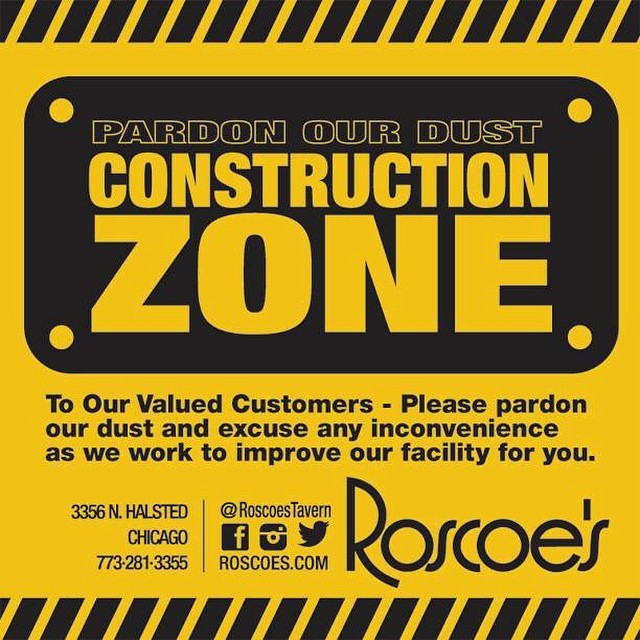 roscoe's tavern is in the construction zone
The iconic Boystown nightclub is under construction as crews work to update some key features.
Chicago, IL - After nearly three decades in Boystown,
Roscoe's Tavern
is undergoing a renovation with construction crews already working to update key features at the bar and nightclub.
Roscoe's, located at 3356 N. Halsted St., quietly announced renovation plans on Jan. 5 after planning the changes for more than 1.5 years. Brendan Chrisman, the bar's general manager, told ChicagoPride.com that while some things will change, fans of Roscoe's won't be disappointed.
"We want to stick true to what Roscoe's is about," he said. "We're very proud of our history, so at the end of the day, we wanted to use the space more efficiently. Roscoe's was created 28 years ago, and at that time, nobody thought it would have the success it's seen. So, we've clearly outgrown the space to a degree, and part of that includes the bathrooms."
Those who have been to Roscoe's on a busy night know the restrooms are less than ideal, with long lines and cramped quarters, especially for the female crowd. But Chrisman says all of that will soon change as crews work to relocate a large cooler to make room for extra facilities.
"In 1987 and 1988, the gay community and Boystown were much different," he said. "We need to update the facilities to have more stalls and more places for both men and women. That's why we moved a walk-in beer cooler to the basement to create the space, and those are being built out now."
The much-needed restroom upgrade will be accompanied by a renovation to the room facing Halsted Street on the southern end of the nightclub. Crews are expanding that adjacent bar and installing additional wood tables and booths, all while maintaining the look and feel of a tavern.
Other than a major restroom upgrade and transforming the southern room, Chrisman says the rest of Roscoe's will stay the same. The dance floor in back was renovated after a fire in 2008, and the main bar near the entrance won't be altered. For that reason, Roscoe's plans to stay open all through construction.
"We're not closed, which is a challenging situation, and we appreciate the patience," Chrisman said. "We'll close that south room in February, and the goal is that the entire project will be completed in the beginning of March right before St. Patrick's Day. We need to be open to serve green beer."
Renovations at Roscoe's Tavern come after other recent upgrades to North Halsted. Besides
Hydrate Nightclub
completing an extensive renovation just one year ago,
Spin Nightclub
went through the gauntlet of gut-rehabs and management changes. That's on top of the strip's newest entertainment location,
Dive Bar
, which opened on Thursday and is planning a grand opening party for the Superbowl.