Tony Lucca signs to Adam Levine's Label 222 Records
Tue. September 25, 2012 5:46 PM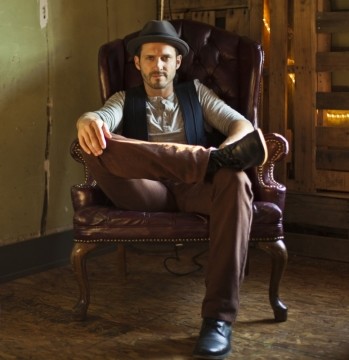 Los Angeles, CA - Maroon 5 frontman and The Voice coach Adam Levine announced today that The Voice finalist and "Team Adam" member Tony Lucca has signed to 222 Records. Tony is set to release his album next year, joining label mates Matthew Morrison, Diego Boneta and Rozzi Crane who also have upcoming projects on 222's record release schedule.

"It's cool to see how a gut instinct can manifest itself in such unimaginable ways," said Tony Lucca. "Working with Adam on The Voice truly was an opportunity of a lifetime. Now we'll get a chance to take that opportunity to the next level. Thinking back to the blind auditions, Adam said he thought I was going to have an amazing career and that he wanted to be a part of it. It's so cool to see him stay true to his word in such a meaningful way."

Earlier this year, Tony Lucca captured America's hearts on The Voice. Lucca's cover of Hugo's version of Jay-Z's "99 Problems" reacted strongly, propelling Lucca to the #3 spot on iTunes Overall Singles sales chart and #1 on iTunes Rock Singles chart. Additionally, Lucca's duet of "Yesterday" by The Beatles with coach Adam Levine landed Top 5 on iTunes Overall and Pop Singles sales charts. In 2011, Tony Lucca appeared as himself on NBC's Parenthood performing his song "Like Love." Lucca was also tapped to appear in friend Justin Timberlake's 901 tequila commercial spot. His songs have been featured on TV's Friday Night Lights, Brothers & Sisters, Shark, and Felicity and in Kevin Costner's feature Open Range. He has been seen on E! Entertainment Television and A&E, and performed numerous times on NBC's Last Call With Carson Daly. Over the course of his career, Lucca has shared stages with *NSYNC, Marc Anthony, Macy Gray, Johnny Lang, the late Chris Whitley, Sara Bareilles, and Tyrone Wells. Lucca has also completed several cooperative tours with Jay Nash and Matt Duke, also known as TFDI.

Levine's announcement comes on the heels of the premiere of the third season of The Voice, which debuted in September to record #s and rave reviews. Levine, along with music coaches Christina Aguilera, Cee-Lo Green and Blake Shelton, joined the #1 NBC hit series The Voice as a coach in 2011—and the show has dominated ratings ever since.