Blackhawks, Cubs open doors of diversity at Chicago Gay Pride Parade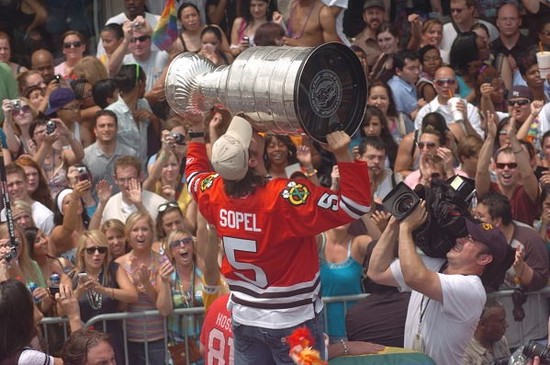 brent sopel and the stanley cup
photo credit // jay shaff
Chicago, IL - Spectators and participants alike provided a deafening roar of welcome to the Stanley Cup and ex-Blackhawks defenseman Brent Sopel as the 41st annual Chicago Gay Pride Parade kicked off promptly at noon on Sunday.
Led by Grand Marshal country music sensation Chely Wright, the parade proceeded without any difficulties or delays.
Close to five hundred thousand revelers lined the streets of Halsted and Broadway on a hot humid June afternoon. A mixture of sun and clouds was welcome following morning thunderstorms which threatened to dampen the event.
Congressman Mike Quigley (D-IL) told ChicagoPride.com: "When a professional hockey organization like the Blackhawks joins in the celebration of gay pride that really opens doors. The barriers are down."
"I had a great time, way better than I expected," Sopel, who was traded to Atlanta last week, told
Outsports.com
in an exclusive interview. "I hope it raised some awareness."
In addition to the Stanley Cup, the Chicago Cubs also had a float in the parade and All-Star Ernie Banks represented the Cubs. Laura Ricketts, one of the new owners of the Cubs, is a lesbian.
"The unique thing about this parade is now finally, not finally, but the Chicago Cubs are here, the Blackhawks are here so not that we need any level recognition in that kind of respect but the fact is that having major league athletic teams here is a great thing", Alderman Tom Tunney (D-Chicago) said to ChicagoPride.com. "That's probably the unique difference about today."
State Representative Greg Harris (D-IL) echoed the comment about the Cubs and Blackhawks and told ChicagoPride.com: "This time next year I hope to be celebrating marriage equality in Illinois."
Politicians by the dozen walked and rode in the parade. Over 300 floats and marching groups made up the three hour long trail which started at Halsted and Belmont and ended at Diversey and Broadway.
Chicago Fire Department paramedics were observed treating numbers of parade goers for heat related problems and the Chicago Transit Authority had cooling buses at many locations due to the extreme heat and humidity of the day.
Video Coverage by OutWorldTV:
The Chicago Blackhawks bring the Stanley Cup to the Chicago Pride Parade