Monday 9/15/2008
Mimi Project - Day 15
Today's person I have come to appreciate is Andrew W. I met Andrew a few months ago, and clubbed a few times. On the few occasions we have hung out I had a blast with him he is not like the stereotypical People we come across in the bars. What I appreciate about Andrew is he is fun drama free and he goes out to enjoy himself and is a great fan and supporter of me. I respect all my fans and always welcome new one. I am always trying to grow in this business and people like Andrew give me pride in who I am and what I do and deep down I realize without them there would be no me they are the reason I am where I am today.
Sunday 9/14/2008
Mimi Project - Day 14
Continuing on with my 30 people I appreciate in the month of September, for it being the month of appreciation. I met a few months ago Robert H, we have chatted through "Myspace" and got to know one another. He is a great person, and his partner is just as great. I appreciate my friendship with Robert He is there to give me advice when I need it he listens to my concerns and worries. He has become a good friend One I respect and admire. Thank You Robert for being there.
Saturday 9/13/2008
Mimi Project - Day 13
As for my next four people I am mentioning new people in my life. Working in this industry one meets a lot of interesting people. On an average basis we see new faces, new talent, new acquaintances, new friends, and new fans. A bit earlier in the year I met Michael sweet as he can be. He is definitely one of Miss Foozie's Foozettes. He respects and admires all impersonators even Mariah on her worst day.
What I appreciate most about Michal
is he is a great fan, & a new friend. He hardly knows me but doesn't stop him from being friendly to me and all , accepts me for me and comes out to support me whenever he can. Thank ya Michal.
Ps I hear he is in Miss Foozies Variety show tonight..@10:30pm
Friday 9/12/2008
MiMi Project - Day 12
Upon 5 years ago of moving to Chicago, I found the neighborhood titled…"Boystown". It's a neighborhood full of festivities fun families' togetherness and for me that sense of closeness. I have done my share of traveling to a variety of cities, but have yet to find anything that Chicago's Boystown has. I appreciate most about Boystown is Boystown, lets break it down everything from Berlin to Roscoe's, Hydrate and Circuit. IHOP to Melrose to Nookies. Chicago free press to Boi Magazine to Gay Chicago to nightspots. Howard Brown to the Center on Halsted. Jewel to Whole Foods. Starbucks to Caribou to Argo Tea Miss Foozie to Frida Lay to Honey West to Mimi Marks and yes even Mariah. And most of all Chicago Pride to You To everyone who lives or visits Boystown on a average basis. Everything I need is right here in Boystown, why would anyone want to leave yea just like any other neighborhood we all have problems but your friends and neighborhood can and will stick by you. I have friends I can count on day and night and I'm sure everyone else does. It's not Chicago that kept me here for the past 5 years but Boystown all the success it has brought me as tomorrow does mark my five years exactly so Thank You Boystown for giving me every opportunity possible to blossom what I have today.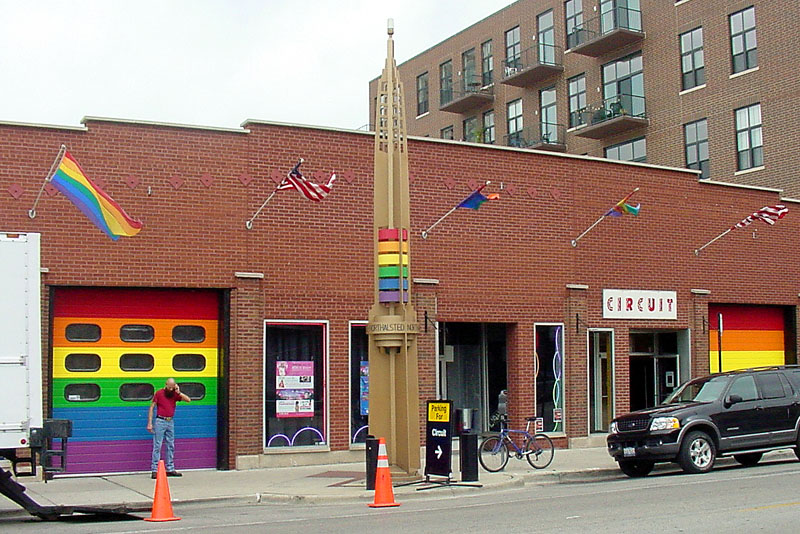 Honey you need to get out a bit! Boystown is great, don't get me wrong.....but if you stay in that little area, you're missing out on a LOT! There is definitely more to life than gay bars and bathhouses! Live a little!
Thursday 9/11/2008
Mimi Project - Day 11
Well this one is a bit emotional for it being 9-11. Today feature is not a person but a city, a city of thousands city of New York. Having been from New York, have grown up there, New York being the city that has a lot to do with who I am today. Yet I was more proud to be a New Yorker post the event that happened post September 11, 2001. I know it's sad to mention this but I know to remember is how we learn and evolve from things. 9-11 has changed a lot about me and New York in general. Remember on my way to work never imagining that that day would change from the day before, yet it changed my whole perspective on life, on the world, and on me. What I appreciate about New York is it is the city I grew up in literally, it is the city the provided so many habits & custom that I use today. It is the city where my family is. Above all it is the city that is and will always be part of me. Here is to remembering those lives lost on September 11, 2001 and remembering who I am before Mariah before anything that really matters today.
Older blog posts