Thursday 5/21/2009
Fierce Cabaret returns this Thursday!
Come and see another installment of the Fierce Cabaret at Spin Night Club. It is hands down, the best weekly drag show in the Chicagoland area! See why we continue to win awards and get props from everyone!

This week, come and see:

The Leggs of Halstead that is, Dida Ritz!

A Former Miss Continental/Former Miss Texas USofA, Kelly Lauren!

The Sexy Mexy, Aurora Sexton!

From Florida, Roxxy Andrews!

Former Chicago superstar, Amanda Brandt!

Arizona's very own, Janee Starr!



See you at 11pm, in the new dance bar!
Amanda Brandt? Don't you mean Mandy Boom Boom, The only ts porn star that didn't have to go on hormones to shrink her d*ck? Wow....such a classy show you have!


It's sad to someone so bitter...clearly another wanna-be entertainer that can't get booked in the city....boo hoo! That picture of Roxy is Fab! Can't wait to see what she brings tonight!
Oh what a tangled web we weave, Lady Vera Parker
no it's quite simple actually....MO MO..... You are a bitter booger druggie that lives in your parrents basement and has no life and is jealous of anyone and everyone that has any success in life...so you sit there trying to make yourself feel better by putting others down.... shame shame
See everyone tonight! Artemis and Bill, Hope to meet you!!!!

And Bill, I agree, Monique is a horrible entertainer and person! I personally can't stand her myself! Thankfully, one can now peacefully go out in Boystown and enjoy a cocktail without seeing her!
Lady Vera Parker,

I appreciate the kind words you have spoken about me! While I appreciate all your words, it takes a very low and VILE person such as yourself to attack anyone on any kind of addiction as you have done with me. I have kept quite with you long enough and do not feel I deserve such adoration. The hatred spilled from your mouth truly depicts the kind of person you are. Money may blind some to your actions, but the benjamins are slowly disappearing and your actions are coming to light with more people.

I continue to focus on myself and my life (which you have chosen to attack....pretty sad in my opinion) which I quite enjoy. And of course I focus on my show, which allows me and others with TRUE talent (which is why you will never even be thought of to perform at) an outlet for our creativity.

So thank you again for the press.....it just goes to show that I may not perform in Boystown (what a loss) but my name will forever hold a place in the history of the strip.

All my love
Monique Marquette


Greg/Monique:

I hate you with every ounce of my being, and I make no attempts to hide that. If you were dying of thirst and I had access to the last bottle of water in the world, I would empty it into the sands. If you were bleeding to death and I had that last band-aid in the world, I would burn the band-aid in front of you. However, I did not mention your addiction once in my posts. Again, you find a way to rely on your crutches and twist a story. Though I know you to be a recovering addict that lives off HIS parents to support himself at the age of 30 something, I did not bring that up in any posts above. I merely acknowledged your resemblance to Mr Ed and expressed my hatred of you.

I would also like to correct a few more lies in the bullshit you spewed above….thought of to perform at your bar? You dipshit, I had my own show there for the past 3 months. I would never seek a booking in YOUR particular show because it is filled with people that I can't stand, including yourself. I try to avoid people like you and Regina Upright who just fill the world with hatred. And as far as my "benjamins" running out, again, more bullshit that you just pulled out of nowhere because…… a) I am not running out of money by any means of the word b) I will always have more money than you c) I use my money to help others and improve my drag….two things that would probably benefit you, Greg.

You are constantly ridiculing me because I use my own money to often fly entertainers in from out of town. I would like to try and understand why you feel that is some cup of tea on me or a negative thing. What's bad about it? That I am making relationships and creating a show that you could never? That my audience continues to grow and the bar continues to endlessly thank me for my hard work? That I give out of town girls a chance to experience drag in Chicago? That I give my audience a fresh and new take on drag each and every week? Tell me, as you check in your next dog at the kennel…what is bad about using my resources to make a great show, with great entertainment and a great audience?

My expressing my great distaste to you will not hurt my reputation or show any true colors, as much as you would like it to. Those who know me in town know that I am kind, generous, and every easy going. I have flaws like every other human being, and I do not attempt to hide them. I can be stubborn, I can be rude, I've had fights with people…I am human like everyone else. But, generally I think if you ask what people think of me that I have met in my life, more will like me then dislike me. So, the fact that I publicly speak about how much I hate you will show others that you must truly be someone worth hating, because I hate and dislike VERY VERY VERY few people.

You have hardly kept quiet. You are always starting trouble somewhere. You have also been obsessed with my popularity, accomplishments, and wealth. It takes an equally low person to say and do the things you have done. But unlike you, who seeks to attack others behind their backs, by e-mailing bars, or setting up their oh-so-humorous facebook quizzes, I choose to openly acknowledge my hatred of you. You make me sick. I truly wish people like you would get hit by a bus.

Yes, you have definitely set your foot in the history of Boystown. Those without talent, charisma, or elegance often find other ways to place their footprint on the lives of others, and you have done so by being a hateful, miserable person. You have attempted to destroy the careers of others because you recognize that your own has gone nowhere in ten years.


Sincerely,

Lady Vera Parker

Don't worry about removing my response to you.....your blog will be down soon enough!

In the mean time.....you have two choices....Fierce Cabaret with a BRICK of a performer and lousy emcee or the show that it copies The Hy-Drag Revue with a FABULOUS emcee and national titleholder!

Check out The Hydrag Revue! Theres nothing like the REAL and ORIGINAL thing!
Hi Monique:

I suppose I would be more fascinated by your posts and comments if you actually stuck by what you said. Aren't you the same person who has ridiculed Hydrate time and time again? Aren't you the same person who has ridiculed almost every performer in that show, and my show for that matter? Aren't you the same person who has sent hateful emails to Hydrate, and other bars, ridiculing them for not discriminating against transexuals? So now when the cards are down, and your arguments don't hold up about me, you turn to Hydrag as a pawn in your game of chess. So now only are you sick and bitter, you're also just a complete backstabbing liar who knows no limits.

I suppose I would be the same if I were in your shoes, but I'd hope that I'd least have the mind to be consistent about what I complain about.

And as far as the "original" comment, it's quite common, Greg, to have multiple drag shows in a city. In fact, some cities actually have one every night, or even two a night. Some of the performers at Hydrate and SPIN are shared, but the two nights are not competing. Our show is not copying the Hydrate show, and in fact it has been my goal to make something entirely original, which I have. You will never half the success I have had, and just think...I have only been doing this two years! The shows are on different nights, with different DJS, at different bars, with different concepts. In fact, most girls in the city love that they now have a new place to work. I realize you'd like to throw dynamite wherever you can, but there's not need to stir things up with two shows that have a great working relationship together. I love Taj's show, and she has worked at the SPIN show before. So please, don't start drama where there is none to be had.

And keep calling me a brick and a mess, I could care less. I am very honest with myself and others, and I know where I stand, and I can see how I have grown. Everyone starts somewhere when they first put on a wig, and I know that each day, I am a bit closer to becoming the entertainer I want to be.



I would just like to say that this blog totally makes Monique look like a fool! What a hysterical loser! Keep up the good work Vera!
LOL!!!!

Miss Vera Parker is READING!!!!!!!!!!!!!!!!!!!!!!!

I live
Whoever this Monique is she is clearly just a bitter unhappy person that gets a false short thrill from putting others down...how sad! And as far as orignal.....no one is every really original we all take things we see or hear from others and adpat it....its part of life and culture and there's nothing wrong with that! I mean hello..... how many queens go out and do inpersonations like Pink or Cher......... now that wouldn't be real orignal would it!?!

Good luck with your show Vera....and just know that everyone in the spotlight is gonna have people throwing stones at them.....don't let their bitterness get ya down.... it just shows that your moving on up when these wackos get on her and try to read!
Wednesday 5/13/2009
Mark your Calendars!
Hello Chicago!

I try to be someone that is giving and helpful to others, and I don't like to ask for favors. But this time, I need a big favor from anyone and everyone!

In January, I qualified for the National All American Goddess Pageant. This pageant is to be held this June in Lexington KY. I wish, hope, and pray every night that I capture this title in June. To compete, I am bringing a package that is nothing short of sickening. I want to make everyone in Chicago proud! It is very expensive to compete the way that I want to compete, but I promise you, it is worth every dime!

On June 6th, 2009, I am having a benefit show at SPIN NIGHT CLUB. It will be a night filled with performances by people who are my friends and colleagues. It will be a $5.00 donation to get into the back space, where there will be an open bar! So, the donation of $5.00 is well worth it because I know you are all huge drunks! We will do a raffle, and have a night to remember. All tips and raffle money will go towards my expenses for the pageant.

I am asking anyone and everyone, to please attend! This is so important to me, and the night is dependent on everyone showing up and having a great time!

Two weeks later, I will celebrate two years of living in Chicago, and boy has the time gone by fast. To all those that have partied, laughed, cried, danced, kissed, hated, loved, treasured, remembered, or forgot me......come and give a bitch a dollar on June 6th 2009!!!!

I promise, this will be my only favor of you! :)

Lady Vera Parker
Friday 5/1/2009
The Station House!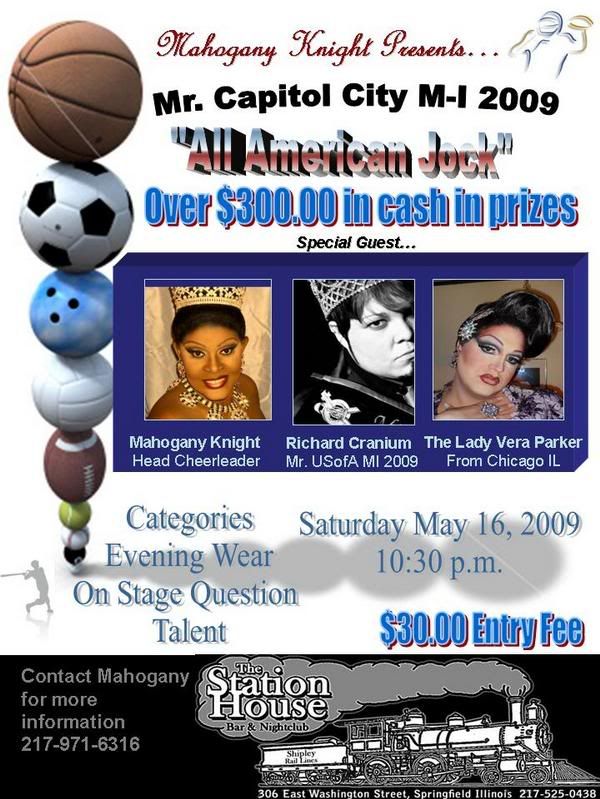 Did Springfield love you as much as we do here in Chicago?
Thursday 4/30/2009
Chris P's going Away Party TONIGHT!
Come celebrate tonight at Boystown's most successful show in female impersonation! 11pm show time with a cast that couldn't be better!

Week after week SPIN is proving that is hosts the best drag show in town!
Show is starring Viviana Mendez, Kelly Lauren, Dida Ritz, Phoenix O'Hara, and Kennedi St James!

Our new light guy Jim is also GORGEOUS and a total bottom!

DJ MIKE Z spins until 2 am!

Hosted complimentary bar tonight (details below).

Come say goodbye to Chris and lets make memories that will last a life time!

Frat Boy party in the old space!

Come join us at SPIN 800 W Belmont....




Tuesday 4/28/2009
190 North Features Lady Vera Parker and Pie Hole!
Check out www.190north.com for a review on my infamous Pizza Delivery at Pie Hole!

Click on WATCH TV SHOW!

Every Tuesday, order a pizza from Pie Hole, and I'll deliver it!

773 525 8888 is the pie hole number!


Vera, I just adore that sweater you're wearing in the segment! Where can I get one just like it?
omg we are totally ordering tonight lmao lmao!
You make the Hole look good Vera! ~Bill
I'd still like to know where I can get that fabulous sweater!
Older blog posts