Wednesday 4/15/2009
Have you been to.....
Rumors Pub?

It's the new hit bar in the Suburbs!

Kinda like a gay cheers!

Great drag shows every Sunday!

2433 Desplaines Ave
North Riverside IL

Join me the FIRST Sunday of every month as I host a spectacular show filled with talent, drag, and fun!

Come have a drink!
Spend time with us!
Get to know your favorite local bar!
Sunday 4/5/2009
Have a cocktail on me!
This Thursday, we are putting on a GREAT show at SPIN as always! As a thank you to the past months of you guys supporting my show, I'd like to buy everyone a cocktail!

This Thursday, your show cast includes:

Your host and MC, Lady Vera Parker!
Miss Continental Plus, Mercedes!
The Insane, Dee Ranged!
From Canada, Fara N Hyte!
Sexy and Gorgeous, Aurora Sexton!
The Dancing Diva, Dida Ritz!
Former Miss Continental, Kelly Lauren!
World Famous....Lawanda Jackson!


If you plan on attending the show, e-mail me at ladyveraparker@gmail.com and tell me your full name! At the door, you'll get a gorgeous drink ticket!

You MUST e-mail me in advance to let me know you are coming!


Lady Vera Parker

Please give me your full name, Prelude!
I sent you an email! My name is Ryan, I have red hair if that helps, lol. I usually come to your cabaret on Thursdays.
I think you mispelled come, we know what you ment though.
LOVE YAAAAAAAAAAAAAAA, house in the ass!
Thursday 4/2/2009
SPIN!
11pm at SPIN night club!
Two great events, one great bar, no cover!
Back Bar: Frat Party all night long, with $5.00 40 oz.
Dance Bar: Boystown's Best in Female Impersonation (and we actually won the award to back it up!)
Tonight, we are featuring:
Former MGA, from Phoenix AZ...Mikaila Kay!
Latina Bombshell...Naysha Lopez
The Original Blonde Bombshell...kelly Lauren!
Sexy Mexy....Phoenix O'Hara!
The Leggggggs of Halstead....Dida Ritz
Your host and emcee...Lady Vera Parker
Come and meet our gorgeous shot boy tonight, Jake! He's adorable, inside and out (and single, guys). Jake hit the cover of Boi Magazine this week. Love you Jakey!!!
Come tonight!
It's beautiful out!
Come and make memories that will last a lifetime!!!
You sure have become a big star in Chicago honey!!! And look your new little son is going straight up also...

See you tonight!!!!
Tuesday 3/31/2009
Hot Boys! Porn! I love Porn!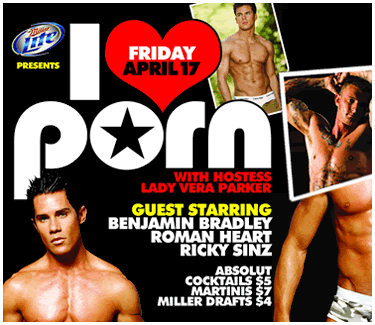 Come join me for this special night!
I host all night long with the gorgeous boys themselves! :)
DJ PHIL DABEATZ on the DANCE FLOOR!
It will be at SPIN night club, 800 W Belmont! should be on that poster but somehow I managed to cut that off!
Love you Steve!
Vera
Saturday 3/28/2009
Thank you!!!
From the bottom of my heart, Thank you to the readers of the Chicago Free Press for voting me as Chicago's Favorite Local Impersonator, and for the Best Drag Show! I was shocked and amazed by this. I will say, that I have worked really hard to build a name for myself though, so I am patting myself on the shoulder for this success, as well as all of the many people who support me in various forms.

I had a great time at the event on Wednesday. Was great to chat with some friends I had not seen in forever, like Bill Pritchard, Miss Foozie, and Circuit Mom! Of course, I could have not been prouder of my son, DJ Phil DaBeatz capturing the Best DJ award.

Thank you Chicago Free Press.

(Picture by Dave Ouano)
Vera, You looked lovely on Wednesday. Great little thank you speech too! :)

XOXO
Wow, fish the house down!
Did you go to the church bake sale after?
Whoa, can you say Alexis Carrington? lol
Older blog posts