Friday 3/27/2009
Good Luck Girls!
This weekend, Montana Michaels and Phoenix O'Hara head to Carbondale IL to compete for the title of Miss Illinois US of A. I want to wish BOTH of these divas a heartfelt best of luck from the bottom of my heart!

Each of these girls has an amazing chance, and they are wonderful people. What is impressive about them both is their individuality and their talent. Both of these queens have let nobody stand in their way---whether it be a lying, backstabbing pageant promoter or even a scheming, drug-using show director who has tried to use HIS show as a way to attack others! I am proud that both of these girls are on their way to make Chicago proud! They are proof that in this business, you only have your reputation and your talent, and not even the most evil of people can take that from you!

Though I am rooting for these girls equally, Phoenix holds a special place in my heart! She is one of the new cast members at the SPIN night club show every Thursday. She has completed our cast, adding the last touch to an already amazing cast! I love you girl, you are the true definition of an entertainer! I think only the sky is the limit for you---I'm glad we have you on the right team! :)

Want to know the results? Come next Thursday at 11pm to the show at SPIN. We're in the new dance space! Maybe, the winner will be there :) We can only hope!

With love always,

Lady Vera Parker


uh oh! Vera is after someone :) Get 'em Vera! Get 'em!
Oh shit! :)
Good luck girls! Phoenix is beautiful! Also, cute boy!
Yes... I am thrilled phonenix has joined the Spin show...I was there last night when she rocked out her talent with her dancers and she is gonna go places! Congrats Vera on such a wonderful show in Boystown and keep up the good work!
Thank you Kurtis! We are just about working really hard! A lot of the girls put in a lot of off time to make this show the best in Boystown drag! Thanks for your continued support!
I like your stuff, I don't like Dida though...she does the same numbers. You should rotate her out.
Hm,

Do you come to the shows often? I think if you came every week you would have to realize she does not do a lot of the same numbers. We all have our crowd pleasers that we try to do a lot, but Dida has a whole slew of numbers she does, and always gets a big crowd reaction.

Thank you for your comments though!
Great show last night, Vera! Loved your first number, one of my favorites that you do! Calypso Pete!
Tuesday 3/24/2009
I love Porn (and penis)!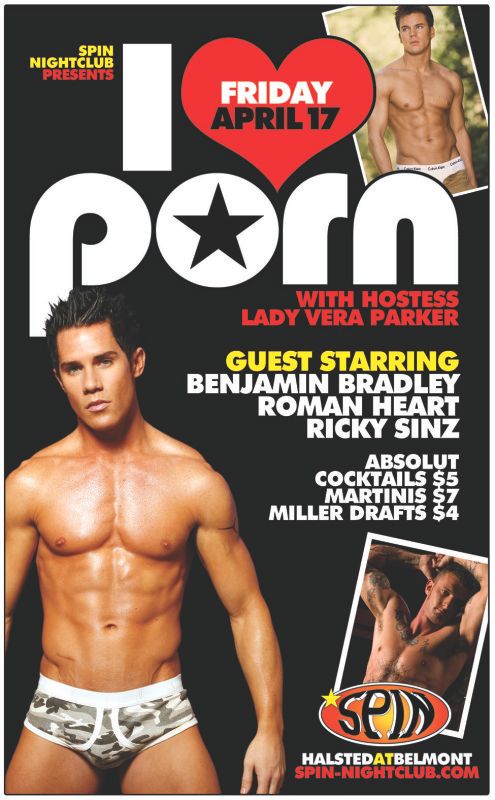 Tuesday 2/17/2009
You Spin Me Right Round!
Have you checked out the new Spin yet?

Um, it's amazing!

We now have two new bars, a brand new upstairs lounge and DJ booth, and lots of hot staff members----there are at least 12 guys on staff now that I want to sleep with!

We also have a whole new lineup of events!

Tuesday, $4.00 YOU Call Its with VJ BEAT NICK!!

Wednesday is the infamous dollar drink night!!!

Thursday, our new drag show night!

Friday, Fridance with the hottest strippers!

Saturday, Special Events every week!

Sunday, Sing-A-Long Sundays...and starting soon...Teri Yakis' crazy game show!

SPIN has seven nights of gorgeous fun for you!
When are you going to have Jadia Kiss come back to Spin, she was AMAZING! She looks FABOLOUS, and can dance her ass off!

BTW, the new space looks incredible.

Ilovetgurls
Tuesday 2/10/2009
It's ALIVE!
What do you get a paid booking in? a show?
Yes, you get a paid booking in the Fierce Cabaret show which is held every Thursday at SPIN Night Club! Come this week and see what you'll be competing for, Toby!
Tuesday 2/10/2009
Attention All Flying Monkeys!
Come see me now at Rumors, 1st Sunday at the month, presenting to you Chicago area's only ALL ILLUSION show!
See Divas that you would swear are the real live thing!
Appearances by:
Whitney Houston
Dolly Parton
Reba McEntire
Joan Crawford
Madonna
and others!
I have to check that one out. Coti is amazing!!!!
Coti! Amazing! Saw her on the Reba tour in the late 90s! Def gotta see this show. Where is the bar?
oh my god, i met coti like 20 years ago at charlies out in las vegas or denver i think. her reba is amazing you would swear its Reba standing in front of you
Older blog posts