Thursday 8/3/2006
Dangerous Muse and I Broke Up :(
In a tear-soaked departure, my boyfriend, Dangerous Muse, and I bid each other adieu.

It wasn't because we didn't care for one another, evident by the included photos.

See how young Tom places pursed lips (though he never really puckered) to my face~as he was instructed~placing his focus not on the object he was faux-kissing, but on the camera for the pictures. And hours later, notice how Mike, too drunk to protest, concedes by also puckering up, but never actually reaches my face, also looking toward the camera and not me.

There's no denying it--That's Love!

However, after baring witness to their amazing live performance in Chicago, July 19 (look for a ChicagoPride.com exclusive interview by resident DJ Greg Haus coming soon!) and seeing all those enchanted boys and screaming girls was simply more than I could handle. Proud as I am, while watching my make-believe boyfriend boy band get pawed, it became obvious we three walk down different roads.

Isn't that sad?
Tuesday 5/30/2006
In Bookstores Now!
I was totally stoked when
GENRE Magazine
contacted me for freelance, but I didn't take it in all that deeply. Sure, it's a national magazine~great for my resume and for bragging rights, no doubt~but the article itself wasn't all that involving. My full-force of creative, spiritual and intellectual prowess weren't exactly called into play in order to write the "Chicago 5"--so titled by the magazine editors. My intro was completely cut, the spread looked more like an aside and, in editing, a pejorative-based colloquialism was used that I find offensive (I never would have used that term!). So, I just choked it up to another step in getting where I want to be career wise and prepared myself to embark on grander goals.
However, when I was in a Borders bookstore in Patchougue, New York, yesterday--a thousand miles from where I call home, from where my bylines are typically exclusive--I picked up a copy of GENRE. I saw my picture and bio and a tremendous sense of pride overcame me.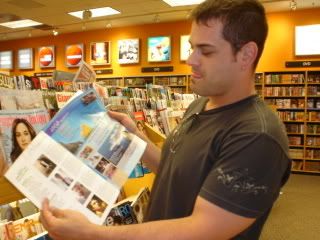 Be it small, unrefined or even just a plain aside, my work is both on display and on sale all over the country. I'm really proud of it. Please check it out if you get the chance.
Also While in New York...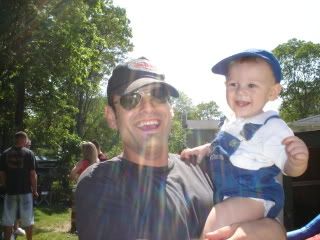 My nephew loves his Fairy Godfather!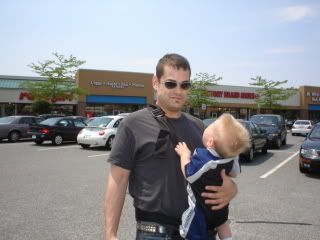 I wore the baby sack for like two minutes--the time it took me to realize: 1. Babies drool.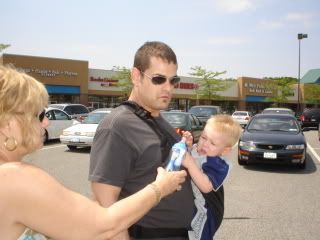 And 2. I'm too cool for bottles and baby sacks.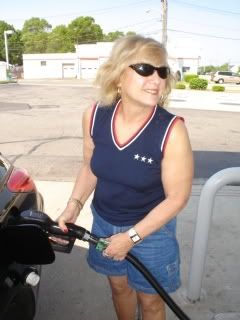 And WTF!?!?! Premadonna Mama is pumping her own gas now! Now that's shocking!


Friday 5/19/2006
Dangerous Muse is my Boyfriend
Mike Furey, member 1 of 2 of the electronic dance pop duo & iTunes sensation, Dangerous Muse: Is that a softball in your pants or are you just happy to see me?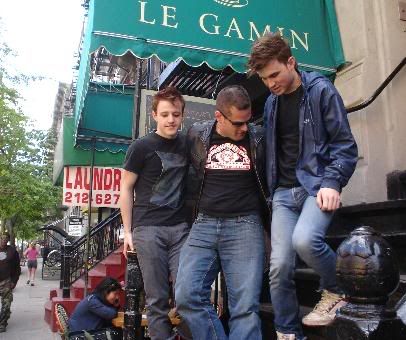 Yeah, he was happy to see me. And so was D-Muse 2 of 2 Tom Napack, for that matter.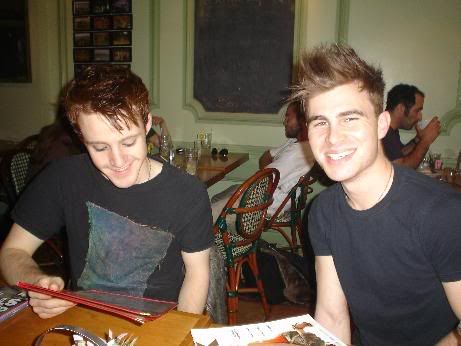 I sometimes get a little jealous of those hipster bloggers, Perez Hilton of perezhilton.com and that Trent guy from the pinkisthenewblog.com. No sooner had the music issue of The Advocate hit the newsstands (the one with Dangerous Muse on the cover) those boys had scanned images of the magazine up on their blogs with accompanying editorial talking about this hot new band. I thought, "Gosh, I wish I could be that cool. I wish I knew about cool stuff just when it came out." As a journalist, I hate being scooped. So I called my pals D-Muse to tell them how bummed I was about the whole thing, and they said, "Jason Paul, don't be silly. Come hang out!"
And I was all, "Ok." But I was still a little down so I couldnt really enjoy myself.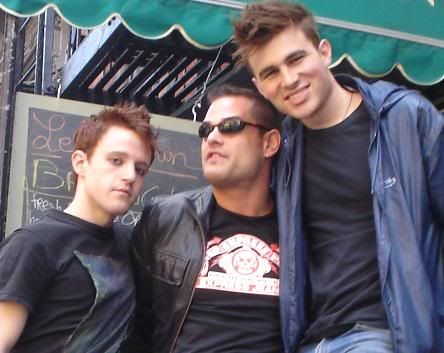 Seriously folks, nationally acclaimed EPs are great and everything but, more importantly, these boys are too cute for words! I tell myself, Be professional!~Dont kiss your subject! Thats dirty pool and really--REALLY--bad form! Remember Jim Verraros? Dont want to do that again! But it couldn't be helped. They are just that cute! There was no feasible way to physically stop myself from pulling them close and kissing their sweet baby faces, rosy cheeks and all!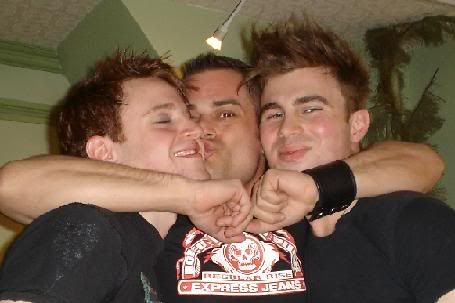 And Look! Tommy has his eyes closed! That means he likes me!
Sunday 4/9/2006
Myspace--It's the new Blog!
And I can't stop. I want to stop. Really, I do. At least, I think I do, but can't. Friday night became Sunday morning all too quickly doing search after search after search after search after search for stupid shit. Thinking it would be nice to know "gay artists," lead its way to "gay musicians," then actors, than writers to novelists to reporters to models to sculptors to painters to magazine publishers to just plain magazines to servers to swimmers, to dancers, to punk rock and to sanitation workers. Then when a certain high school classmate came to mind, there was a search for him too, but he wasn't on MySpace.
Did you know that there are 122 "Jason Paul's" on MySpace?
Then I got to wondering what my favorite C-D list celebrities were up to. So, I searched for
Carnes
,
Lunsford
,
Ziering
, all the guys from Queer as Folk and all, if not most, of them were there. Then—somewhat randomly—I searched for last month's Instinct Magazine
cover model
. He was there too! Looking extremely sexy, moreso then his cover shot, he did however have quite a modest MySpace profile, simply stating he wanted to meet "the one," the lover—the quintessential better-half. Reading this, my heart grew heavy, my face contorted into an expression of "awwww" and I thought, "That could be me."
Sure, why not? We're both creative and in media. He's totally hot and I have a great mind that some people tend to appreciate. There could worse, or more unlikely, couples. So, maybe I should say hi, introduce myself, ask him if he wants to hang out the next time I'm in LA—put myself out there. Take that figurative first step.
Yet that would require abandoning the MySpace searching and maybe allowing the radiation burns in my face to heal from all the free-radicals of the computer screen burning into my skin for 14 hours a day. And it seemed too much a sacrifice.
Sorry Preston, but you ask too much of me.
He didn't answer my friend request anyway. So it was off to search for
Marcia Cross
because I'm dying to know who does her Botox.
Sunday 4/2/2006
I gave him that shirt!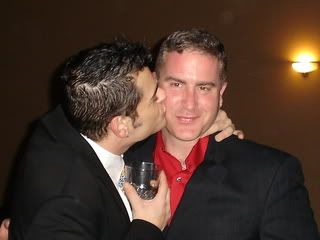 Former lovers become the muse and showcased subjects in this attempt at creative nonfiction, and featured in this issue of the New Town Writers' quarterly e-zine, Swell.
Check it out at www.newtownwriters.org/JF.html
Older blog posts